Sky Sports-SunderMad Exclusive.

http://www.sportskeeda.com/football/chelsea-lands-99-million-2014-15-premier-league-revenue
Finishing as Champions has its own sweet rewards as league winners Chelsea took home £99 million as Premier League revenues for the 2014-15 season. A quarter of the amount came as prize money for finshing as champions which they did after four years.
But the major chunk of it came through the overseas broadcasting rights. All the 20 premier league teams received £27.5 million from broadcasting rights. Next to Chelsea were Manchester City who collected £98.5m while third in terms of revenue collected was Manchester United. 
This comes after the fact that United finished fourth behind Arsenal, yet managed to collect more revenues than the Gunners after being live on television more times. United collected £96.8m while Arsenal managed to collect £96.5m.
The Premier League clubs were also awarded facility fees that is given to teams for featuring live on TV, which is where United pipped Arsenal. The clubs also received income from the league sponsors which includes title sponsors Barclays.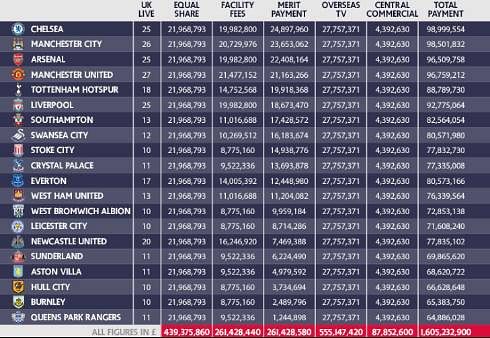 The Premier League is indeed the cash rich league as the clubs split £1.6 billion in total revenues beginning with Chelsea right down to the relegated Queens Park Rangers. QPR who finished bottom of the league took home £64.9m. For a last placed team, it is the highest ever sum received in revenues.
The distribution mechanism in the Premier League is the most impartial among all the leagues in Europe as teams received revenues based strictly on their performance and standings. It also explains why the Premier is such a lucrative league and why teams dread the drop while Championship sides fight it out for promotion.
The more a club features on TV, the more money they rake in through facility fees. The club which benefitted the most by this is Manchester United while teams like Stoke, Hull, Burnley and West Brom got the least in the form of facility fees. The clubs earned £8.8m each as they were televised on 10 occasions this season.

Guest

Guest






---
Permissions in this forum:
You
cannot
reply to topics in this forum