Sky Sports-SunderMad Exclusive.

SunderMad Blog
ISIS The Threat That Will Not Go
Another man, a good man, lost his life yesterday and the next in line was introduced, the next in a never ending line of good men.
We all are in shock, words of sympathy are written and tears may flow but, the sad but, life goes on, names fade in the memory and the life lost becomes a meaningless loss like so, so many lives before.
But how long can life be allowed to be lost so cheaply, how long can this evil be allowed to continue. The sad gruesome truth is that as sad as this loss of life is it is a mere pin prick in the day to day lives of the people of Iraq and Syria, people who are brutally murdered, raped and tortured on a daily basis for, well for being in the wrong place, having the wrong family background or for following the wrong faith.
It could well be that ISIS have a point in their fight for an Islamic state, I wouldn't know but I do know that the mindless violent way they are acting and the calls for Muslims in the UK and USA to bring terror to our streets cant be allowed to continue.
Of course with emotion running high after another brutal death the call for action and all out war will be great and we all know that emotion is a poor base for good judgement.
We also know that all out war is exactly what ISIS want and that will be their cue to call on Muslims around the world to join their war, and in there lies the danger.
Indeed this Blog so far aids their cause with the constant mention of Muslims it build on the belief that Muslims are bad but we know that they are simply people who follow a different faith to us, so what do we do?
Well we, the plebs at the bottom of the pile can do little, I will go to my football match and quickly forget about Alan Henning today a kick off approaches, that's just how it is. Sadly the Henning family like others before them cant just forget, for them its a real loss not just column inches in a newspaper.
Cameron and Obama, IMO, are in a damned if you do dammed if you don't position but are probably getting it right in trying to get the middle east countries to sort out the middle east problem, the scary thing is that its no longer just a middle east problem.
So many lives have been lost, so much suffering has taken place since we decided to sort out Iraq and bring our democracy to their people, we seem further from a peaceful settled world than ever.
We can look back and blame Blair or Bush but blame wont solve today and one thing is for sure ISIS wont just fade away.
I asked the question some time ago,"Are we on the verge of World War 3", the consensus was no, I ask the question again.
Maybe I am being melodramatic, seeing what is not there, putting 2 and 2 together and making 5, but.
A total disillusionment with our political system.
The rise of UKIP and other far right parties.
A growing divide between us and them, north and south, rich and poor.
Religious based conflict growing throughout the world.
A tinder box bubbling under the surface on our streets.
A European Union looking fragile.
It seems to me that all the elements are in place and we only need one spark to ignite it, maybe Alan Henning will be that spark.
Again I pose more questions than I give answers, I'm sure you have the answers to ease my fears.
________________________________________________________
My glass is always half full and occasionally over flowing.
Good blog as always Syd, 
I have always thought that the 'War on Terror'
is
 World War Three and the world has been fighting it since 11th September 2001. 
It is just a different war to those that went before, and that is what the military chiefs are finding difficult to get to grips with. They know how to deploy soldiers, tanks, artillery, battleships, submarines, fighter jets, bombers and attack helicopters but they have no experience of fighting a war against an IDEA. That is why the response to the IS threat seems to be floundering at the moment. 
We need to continue to support the Middle Eastern nations to take responsibility for policing their region, but I also think we must address the arms trade in general. As military grade weapons, meant for legitimate armies, always seem to end up in the hands of such radicals. And as I have said many times, a lot of these arms are supplied from the West, including the UK and the US, in the first place. 
However, IS do not represent the vast majority of Muslims, with many Muslim leaders across the world roundly condemning them and their abhorrent behaviour as anti-Islamic. 
We must be careful not to encourage prejudice by jingoistic media headlines, and politicians using sound bites that only serve to support the radicalisation of disaffected young people, and create even more rifts in our society.

Hieronymus

Admin Problem Solver





Posts

: 9438


Join date

: 2012-08-07


Age

: 62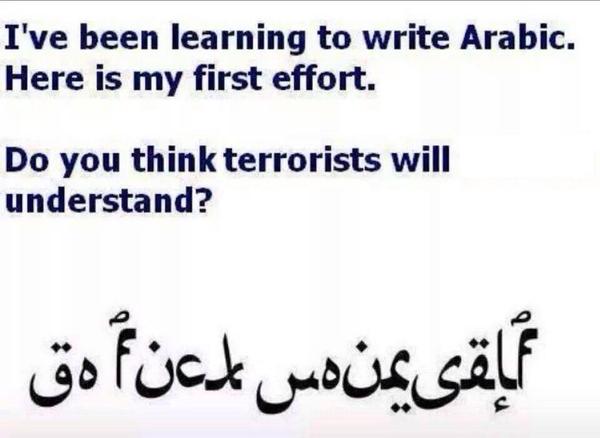 ________________________________________________________
My glass is always half full and occasionally over flowing.

---
Permissions in this forum:
You
cannot
reply to topics in this forum